Laughter yoga (Hasyayoga) is a practice involving prolonged voluntary laughter. This type of yoga is based on the belief that voluntary laughter provides the same physiological and psychological benefits as spontaneous laughter. It is done in groups, with eye contact, jokes and playfulness between participants. Forced laughter often turns into real and contagious laughter.
In the mid-1990s, laughter yoga was practiced in the early mornings in open parks, primarily by groups of older people. Laughter yoga is an exercise routine developed by Indian physician Madan Kataria, who writes about the practice in his 2002 book Laugh For No Reason.[1] Laughter yoga is found in 53 countries.[2] There are about 5,000 Laughter Yoga clubs worldwide, with roughly 200 of those in the United States.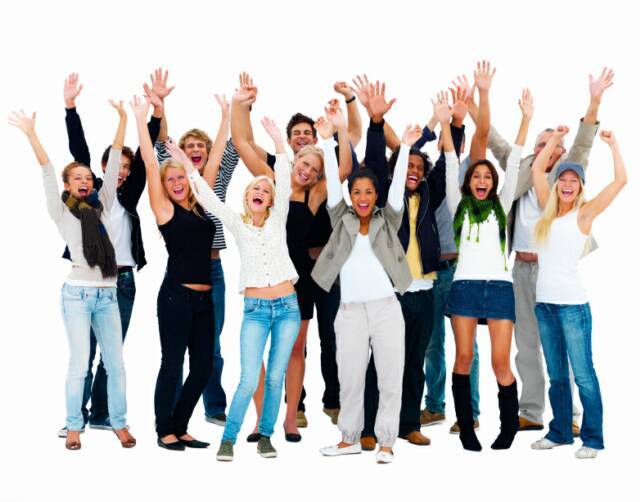 How Does It Work?
The yoga is performed without any humorous reason to laugh, with one practitioner observing that "The mind does not know that we're faking it."
Laughter yoga sessions may start with gentle warm-up techniques which include stretching, chanting, clapping, eye contact and body movement, to help break down inhibitions and encourage a sense of playfulness. Breathing exercises are used to prepare the lungs for laughter, followed by a series of 'laughter exercises' that combine the method of acting and visualization techniques with playfulness. Laughter exercises are interspersed with breathing exercises.
Twenty minutes of laughter is sufficient to develop fully physiological benefits.
How do I dress for Laughter Yoga?
You may address and street clothes and comfortable clothes. It's nice to take your shoes off and be able to walk around and be playful.
Is a yoga mat required for Laughter Yoga?
Absolutely not. This is not your typical Yoga. This is about Laughter and breathing. Laughter Yoga is traditionally done standing up, however for people with mobility issues, you are able to be seated and still participate in a group setting.
What else is required with Laughter Yoga? Water. Bring water and drink lots of water.
Do I need a sense of humor to do Laughter Yoga?
No! We are all faking it and if/when natural laughter arises, it is welcome, but you will stay in the non-critical portion of your brain, and only laugh and follow the instructor. No sense of humor is required. Stay tuned for upcoming Laughter Yoga sessions and locations.
Please feel free to contact me if you are interested in hosting a Laughter Yoga outing.
Improve Your Life. Today!
I look forward to working with you,
Laura